Dear Futurists,
In a moment, I'll share some information – and some requests – about publishing a book with the theme "Anticipating 2025". But first, some other items of news…
1.) The future of healthy longevity
After a break of several months, our series of Saturday afternoon get-togethers is re-starting on the 26th of April. This event features three speakers each giving TED-style presentations on the theme "The future of healthy longevity": Phil Micans, Tuvi Orbach, and Avi Roy.

After each speaker, there will be a chance for audience Q&A. Then we'll have an extended group discussion at the end.
There's more info at the event page. Here's an extract:
There's a great deal of news these days about potential developments to increase healthy longevity. How can we decide which are the most promising initiatives? What can we do to support faster development and deployment of new treatments? If we want to enable significant increases in healthy longevity for ourselves and our loved ones, what steps should we be taking?…
There's a Facebook page for this event too. Please consider sharing this event on your own page, and/or joining the event, to help spread word of what should be a fascinating discussion.
2.) Terminator or transcendence: The future of super AI, Hollywood and beyond
Another programme of events is also re-starting shortly – our Sunday evening "Hangouts On Air", which people can watch from the comfort of their own laptops from home. In these events, viewers can also pose questions in real time, and vote on questions suggested by other viewers.
The first in this new series is called "Terminator or transcendence", on the 4th of May. Here are some details, from the corresponding event page:
Hollywood has provided some vivid images of what might happen when AI gains superhuman powers. This includes the various disasters depicted in Terminatorand Transcendence. These films are science fiction, but appear to have some of their plot lines rooted in potential near-future real-world developments. Should we be worried about real-world near-equivalents of Dr Will Caster? If so, what sort of evasive action should we be taking?…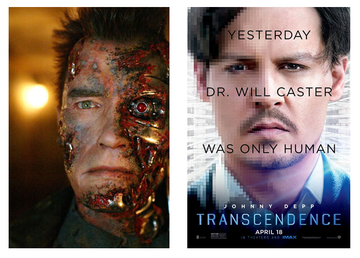 On this occasion, the panellists include Randal Koene, Calum Chace, and Stuart Armstrong. One more panellist will be announced shortly.
3.) London Futurists on Bloomberg TV
A number of journalists have been in touch with various speakers from the Anticipating 2025 event in the couple of weeks since that event took place. Collectively, these speakers caused quite a stir – so it's no surprise that further speaking requests and interview requests have resulted.
As a result of one of these discussions, I ended up on "The Pulse" on Bloomberg TV earlier today, answering questions from their anchors Francine Lacqua and Guy Johnson. The topic was "The future of robots in the workplace". A video of the resulting five minute discussion can be found here.
After the segment was finished, and the programme moved to a commercial break, the anchors both told me they wanted the discussion to continue on subsequent programmes. That's a good outcome, since we hardly had time to scratch the surface of many important themes in this initial segment.
4.) Anticipating 2025 Book project
Following a set of very positive discussions in the wake of the recent Anticipating 2025 conference, a number of the speakers have confirmed that they wish to use their presentations as the basis for chapters in a forthcoming book with the same name.
The chapters in the book will collectively address the same goals as the conference itself:
To elevate serious analysis of the potentially radical scenarios that may unfold between now and 2025
To explore both the potential upsides and the potential downsides of these scenarios
To compare views as to which future scenarios are technically feasible and desirable
To debate the best steps to take to bring the desirable visions into reality, despite the many roadblocks that are likely to be encountered en route.
Regarding this book ("A25B"), I've got two questions for the membership of London Futurists. Please reply to me by email if you're interested in either suggestion…
4a.) Your chance to contribute a chapter to the book
Alongside chapters based on the presentations at the event, there's scope for a small number of additional chapters, covering topics that are complementary to the ones in the presentations, or which provide a new synthesis or review of key open questions.
If you have an idea for something you'd like to submit, here are some guidelines:
The deadline for submissions for first drafts of all material for the book is the 7th of May. There will then be one more month of editing, and then some final integration, with the book being available for purchase and download from the 1st of July
Authors are asked to submit chapters of between 2,000-5,000 words. Quality of thinking and expression is more important than length. Ideally, each chapter should leave the reader inspired, provoked, intrigued, and energised – with a desire to find out more.

London

Futurists

reserves the right to omit submitted chapters from the book if they fail to fit with the overall positioning and style of the book, or on the recommendation of legal advisors or content advisors.
I have a "Framework agreement" document to share with potential authors.
4b.) Assistance with proofing, editing, and/or drafting
As well as writing fresh new material, there are three other roles where people can assist this "A25B" project (in increasing levels of involvement):
i.) Proof-reading the chapters, before they are published
ii.) Editing draft chapters that have been created by a presenter or assistant
iii.) Creating an initial draft of a chapter of behalf of a presenter (some of whom are too busy to do this themselves), by reviewing the video recordings of the presentation.
The book will be sold at a low price and is not expected to generate much revenue. (That is not the purpose of the project…)
However, anyone who helps in a significant way with any of the above tasks will be added to the group among whom a share of the revenues is distributed.
A25B could also be a good project for people to add to their CVs or LinkedIn resumes!
5.) A venue for a 350-person one day London Futurists event in September
We're now at the early stage of planning a major one-day event some time in September 2014, that continues some of the themes discussed at Anticipating 2025.
I'll share more about the likely headline title and other details shortly.
But for now, I'm asking people if they have suggestions for a venue that could cope with an audience of around 350 people.
(The nominal audience size for Birkbeck's Clore Management Centre lecture room, used for Anticipating 2025, was 250. In practice, due to air conditioning problems and the way the room was laid out, it was uncomfortable having so many people in that room. Sorry!!)
The requirements for this venue will include:
*) Acceptable hire cost: £4,000 max
*) Rooms for milling around and networking, as well as for the main presentations
*) Good acoustics in the room where people chat during the breaks, to avoid the frustrations of an ever-louder din of background noise
*) Large presentation screen, easily visible by the whole audience
*) Convenient location – and close to a choice of places where attendees could eat lunch at a reasonable price
*) A proven record of excellent video recording having taken place at the event – this requires excellent control over lighting, and good positions for cameras
*) Reliable wifi, catering for (say) at least 150 simultaneous users
*) Sufficient numbers of clean toilets 😮
I have some ideas in mind, to investigate further, but I'd welcome any suggestions from group members.
// David W. Wood
Chair, London Futurists